Antiparos is an amazing place for kayaking. Calm and clear waters, lots of desert islets, secret beaches, shore caves and even wave riding when strong winds hit the coast.
The options are unlimited. You can go around the island or make a crossing to another place.
From Psaraliki to Paros, from Saint George to Despotiko, from Camping Beach to Diplo and Fira, from Soros to Panteronisi… Each ride will take you to different landscapes.
If you don't have your own, you can easily rent a kayak in Antiparos. Kayak renting is available at:
Psaraliki Beach: Kayak rental right in the middle of the beach;
Second Psaraliki: Kayak rental at PKPC, on the right end of the beach, close to Time Marine restaurant;
Saint George: Kayak rental and kayak guided tours at the Hotel Dolphin
Argonauts Blue: Kayak guided tours with the Antiparos Legend Kostas Kalpenidis (argonautsblue@hotmail.com)
Always check the wind forecast before you go for a kayak ride, let people know your departure and arrival times and take water and food with you (a cellphone with GPS and camera can be useful).
Don't forget you swimsuit and snorkeling equipment!
Here is a medium difficulty kayak ride option, starting at Kako Rema Beach (Saint George) and going along the coast through caves and cliff holes, like the Epitaph.
This is quite an easy 2.5km ride that takes more or less 2 hours (depending on the time that you spend enjoying the places), starting and finishing at Kako Rema beach, in Saint Georgio.
Watch the Kayak Ride Video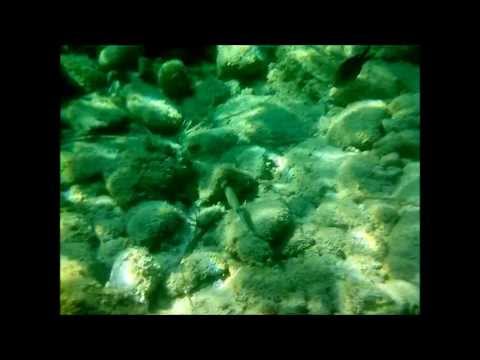 Route

Visualizar Kayak in Antiparos – Saint George Caves em um mapa maior
Photo Gallery