Leigja fallega hús á leyndarmál Antiparos ströndinni.
Þessi tveggja svefnherbergja hús er byggt í rólegu og hlédrægur flókið 4 óháð hús, rétt framan eyðimörk ströndinni.
The Secret Beach House 1 er aðeins 7 km langt frá miðju Antiparos á réttum stað til að kanna alla ströndum og fegurð eyjarinnar.
Krakkarnir geta hlaupið um að vild og geta náð ströndinni án þess að þurfa að fara yfir hvaða veginn, bara 1 mínútna göngufjarlægð!
The varanda hefur fallegt útsýni til Eyjahafs og Paros.
Eitt herbergi er tvöfalt rúm og hinn hefur tvö einbreið rúm. Stofa / eldhús eru loft-ástand, TV, sófi, borðstofuborð, eldavél, a refrigerator and all necessary utensils.
A kajak og grillið grill er í boði fyrir gesti okkar með gjaldfrjálst.
Gæludýr eru velkomin.
Þrif og breyta blöð / handklæði þjónusta er innifalin í verðinu (tvisvar í viku).
Baby situr og matreiðslu þjónusta er í boði á eftirspurn og verður innheimt aukalega.
Verður að sjá
Apantima Beach er einn af the fagur ströndum Antiparos.
A lítill og djúpur flói með bláum Cristal skýrum vatni, hvítur sandur og hellingur af trjám sem veita skugga gestum sínum.
The Beach er veitingastaður bar sem opnar á sumrin.
Í miðri ströndinni er Bryggjan aðallega notuð af börnum sem taka burt pallinum fyrir stökk glæfrabragð. Þetta bryggjan var, í fortíðinni, komu benda öllum ferðamönnum að koma að heimsækja Antiparos Cave. Frá ströndinni, the visitors were taken by donkeys all the way to the cave's entrance.
Þetta er ágætur blettur fyrir snorkelling í grunnsævi með stór fjölbreytni af fiska og sjó líf.
Hvað er í námunda við húsið?
Burtséð frá eyðimörkinni ströndinni rétt fyrir framan húsið, þú ert mjög vel staðsett til að kanna alla eyna. Það er nálægt Saint Giorgio, Apandima og Antiparos hellinum, en samt aðeins 7km frá þorpinu.
Það er veitingastaður á Apantima Beach, 2 tavernas í Soros Beach og a par fleiri í St Giorgio Beach, where you can visit beautiful beaches and visit the ancient ruins at the island of Despotiko.
Á daginn, það er strætó sem fer frá þorpinu til St. Giorgio og stoppar á þjóðveginum, mjög nálægt húsinu, svo jafnvel án flutningatækja, þú getur auðveldlega fá að öðrum fjörum eða við þorpið.
Gallery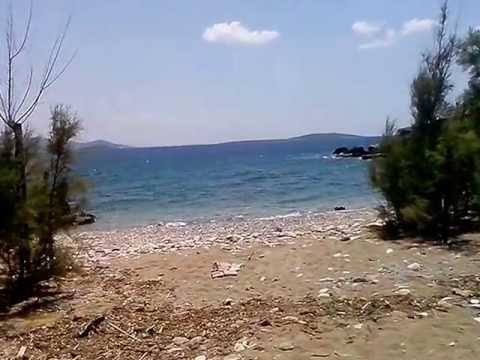 Hitta okkur
Við erum Antiparos Lovers,
If you have any question related to this accommodation or if you need information about Antiparos don't hesitate to call us on (30) 698 0606 507, to send an email to info@antiparosholidays.com or fill in the form bellow.