Lei et vakkert hus på et hemmelig Antiparos strand.
Denne to-roms Huset er bygget i et stille og reservert kompleks av 4 uavhengige hus, rett foran en øde strand.
The Secret Beach House 1 ligger bare 7 km langt fra sentrum av Antiparos på rett sted til å utforske alle strendene og skjønnheter på øya.
Barna kan løpe rundt fritt og kan komme til stranden uten å krysse noen vei, bare 1 minutters spasertur!
Varanda har en vakker utsikt over Egeerhavet og til Paros.
Ett rom har en dobbeltseng og det andre har to enkeltsenger. Den stue / kjøkken har air-condition, TV, en sofa, et spisebord, en ovn, a refrigerator and all necessary utensils.
En kajakk og en grill er tilgjengelig for våre gjester uten ekstra kostnad.
Dyr er velkomne.
Rengjøring og skifte sengetøy / håndklær er inkludert i leieprisen (to ganger i uken).
Barnevakt og matlaging tjenester er tilgjengelig på forespørsel og vil bli belastet ekstra.
Må se
Apantima Beach er en av de mest pittoreske strendene i Antiparos.
En liten og dyp bukt med blå cristal klart vann, hvit sand og massevis av trær som gir skygge til sine besøkende.
Stranden har en restaurant bar som åpner i løpet av sommeren.
I midten av stranden er det en brygge i hovedsak brukt av barn som tar av rampe for stunt hopp. Denne kaien var, i det siste, ankomsten punkt for alle turister som kommer for å besøke Antiparos Cave. Fra stranden, the visitors were taken by donkeys all the way to the cave's entrance.
Dette er et fint sted for snorkling i grunne farvann med et stort utvalg av fisk og sjøliv.
Hva er i nærheten av huset?
Bortsett fra ørkenen stranden rett foran huset, du er svært godt plassert for å utforske hele øya. Det er nær Saint Giorgio, Apandima og Antiparos hule, mens de fortsatt bare 7km fra landsbyen.
Det er en restaurant på Apantima Beach, 2 tavernaer i Soros Beach og et par mer i St Giorgio Beach, where you can visit beautiful beaches and visit the ancient ruins at the island of Despotiko.
I løpet av dagen, det er en buss som går fra landsbyen til St. Giorgio og stopper på hovedveien, svært nær huset, så selv uten transportmiddel, kan du enkelt få til andre strender eller til landsbyen.
Gallery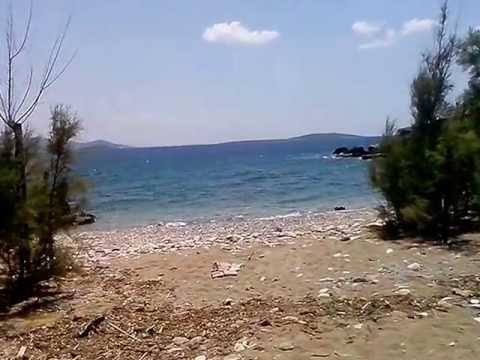 Møt oss
Vi er Antiparos Lovers,
If you have any question related to this accommodation or if you need information about Antiparos don't hesitate to call us on (30) 698 0606 507, to send an email to info@antiparosholidays.com or fill in the form bellow.