Hyr ett vackert hus på en hemlig Antiparos strand.
Denna två sovrum Huset är byggt i en lugn och reserverad komplex av 4 fristående hus, rätt framför en öde strand.
The Secret Beach House 1 ligger bara 7 km långt från centrum av Antiparos på rätt plats för att utforska alla stränder och vackra ön.
Barnen kan springa runt fritt och kan nå stranden utan att behöva korsa någon väg, bara en 1 minuterspromenad!
Varanda har en vacker utsikt över Egeiska havet och till Paros.
Ett rum har en dubbelsäng och den andra har två enkelsängar. I vardagsrummet / köket har luftkonditionering, TV, en soffa, ett matbord, en spis, a refrigerator and all necessary utensils.
En kajak och en grill är tillgänglig för våra gäster utan extra kostnad.
Husdjur är välkomna.
Rengöring och byte lakan / handdukar service ingår i hyran (två gånger i veckan).
Barnvakt och matlagning tjänster finns tillgängliga på begäran och kommer att debiteras extra.
Måste se
Apantima Beach är en av de mest pittoreska stränderna i Antiparos.
En liten och djup vik med blå kristallklara vatten, vit sand och massor av träd som ger skugga till sina besökare.
Stranden har en restaurang bar som öppnar under sommaren.
I mitten av stranden finns en brygga främst används av barnen som en start ramp för stunt hopp. Denna pir var, i det förflutna, ankomsten punkt för alla turister som kommer för att besöka Antiparos grotta. Från stranden, the visitors were taken by donkeys all the way to the cave's entrance.
Detta är en trevlig plats för snorkling på grunt vatten med ett stort utbud av fiskar och sjöliv.
Vad är nära huset?
Bortsett från öknen stranden precis framför huset, du är mycket kändaste att utforska hela ön. Det är nära till Saint Giorgio, Apandima och Antiparos grotta, samtidigt bara 7 km från byn.
Det finns en restaurang på Apantima Beach, 2 tavernor i Soros Beach och ett par mer i St Giorgio Beach, where you can visit beautiful beaches and visit the ancient ruins at the island of Despotiko.
Under dagen, Det finns en buss som går från byn till St. Giorgio och stannar på huvudvägen, mycket nära till huset, så även utan transportmedel, Du kan lätt komma till andra stränder eller till byn.
Galleri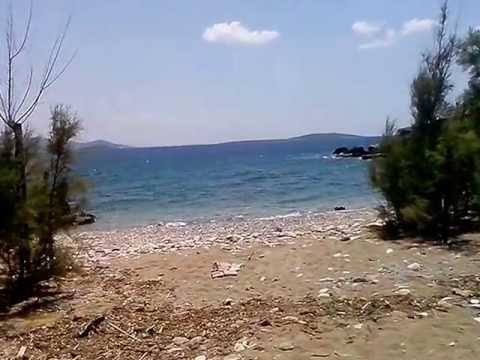 Träffa oss
Vi är Antiparos Lovers,
If you have any question related to this accommodation or if you need information about Antiparos don't hesitate to call us on (30) 698 0606 507, to send an email to info@antiparosholidays.com or fill in the form bellow.