Have you heard of 'Suntan', the film shot entirely at our beautiful island, Antiparos?
The movie by Greek director Argyris Papadimitropoulos, had its world premiere at the Rotterdam International Film Festival in January 2016 and is currently showing at cinemas across Greece.
In it, Dr. Kostis (Makis Papadimitriou) is an overweight 42 year-old anti-hero, who seems to have missed a few boats in life. An introvert and lonely, he does not have family obligations and comes to Antiparos to work as a doctor in the local clinic. Winter on the island passes unevently, but then the summer comes and everything changes. Kostis meets a group of young and beautiful tourists and falls madly in love with the 21-year old Anna (Elli Trigou). He hits the camping nudist beach after office hours to find Anna and her friends and goes out drinking with them every night, neglecting his duties as a doctor. Unused to reading female body language and assessing social situations, Kostis quickly becomes obssesed with Anna and the hedonistic summer on the island becomes a dark vortex, full of shocking surprises.

For those expecting shots of the traditional white-housed main street with its boucainvillas, quiet beach-side tavernas and beautiful beaches, the film can be a disappointment.
This is not an ode to the beauty of Antiparos and its people.
As the distribution company, Odeon, says- it is "an unpredictable psychological drama, full of suspense and humor" taking place in an intensely erotic and mysterious summer destination, the Antiparos imagined for the purposes of the film.
Watch SUNTAN subtitled Trailer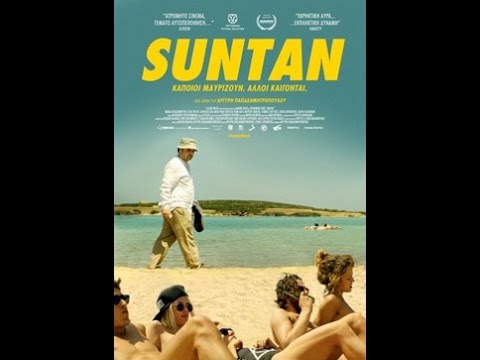 Watch SUNTAN official Trailer
The Antiparos depicted in the film may not be your experience of Antiparos. Don't worry! There are enough aspects in Antiparos to please us all: families appreciating the calm waters and car-free village, sports enthusiasts visiting for the water-sports and athletic events, couples looking for a romantic getaway, as well as the young crowd looking for a care-free holiday clubbing.
Search SUNTAN in a cinema near you: